Let's Fiesta Pom Pom Basket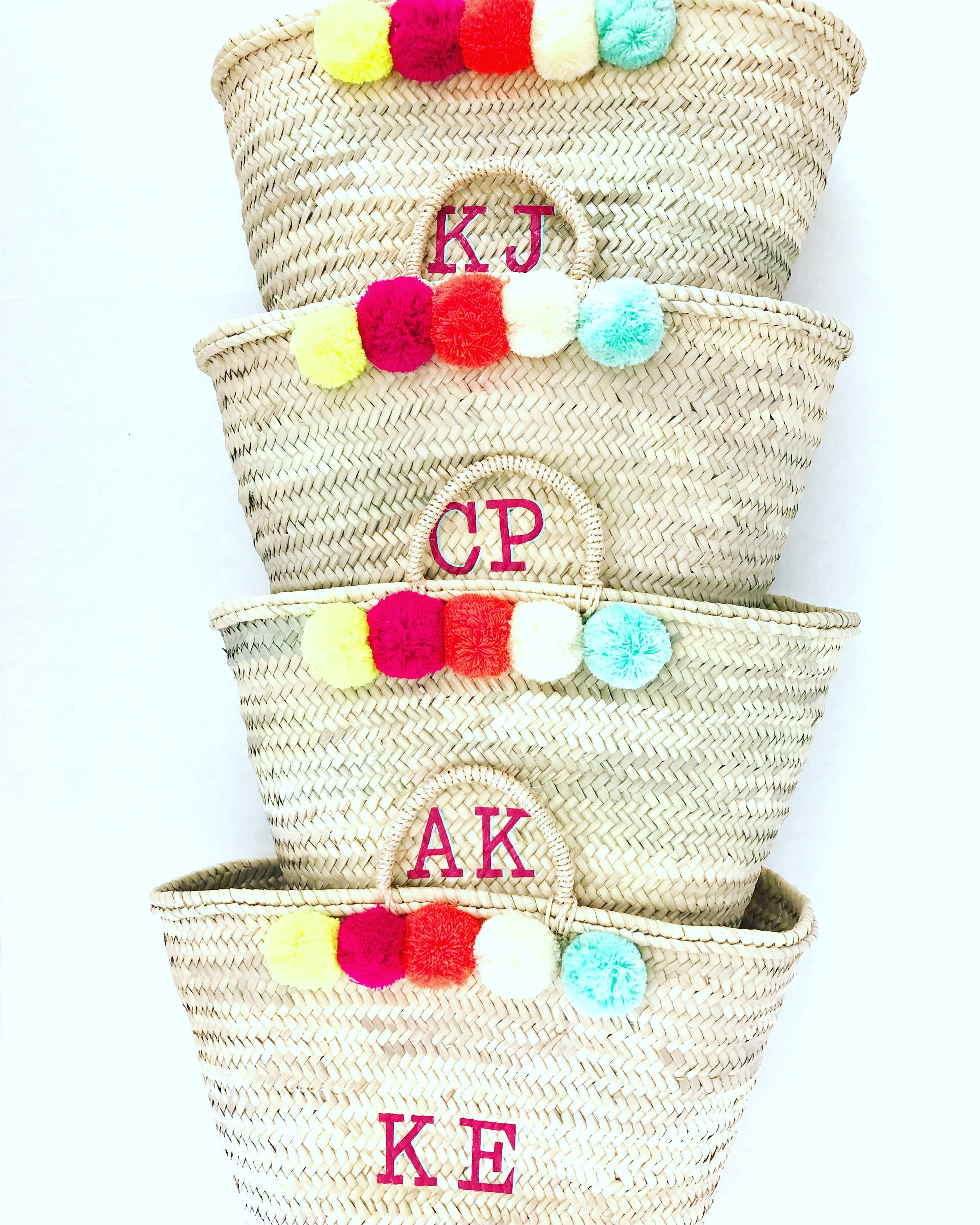 Let's Fiesta Pom Pom Basket
Current style is 2nd image
The most popular bachelorette basket for your girls! This basket has 5 multi color pom poms on the front. Current collection of this basket varies from bridal party photos shown due to each limited production run. Actual basket currently available is in the 2nd image. All baskets have the same pom pom colors.
Please read ALL additional information below.
*Personalize option appears when added to cart * PLEASE add each basket ONE by ONE to your cart*
Carry-All style French Basket
Pom Pom colors will be the same on the baskets

Sequence: Neon-Red-Orange-White-Aqua

Woven handle - double rim and structured base
Handwoven in Morocco, painted in USA
Approximately 20L x 12H x 10W inches
Monogram is hand-painted and coated
Monogram is only on ONE side of basket
Only TWO letter monogram can be done on this Let's Fiesta basket
Discounts available depending on number of baskets purchased. Please email for information. Orders@mariellavilar.com
MUST be purchased at least 8 weeks in advance from need by date. This item is made to order when monogrammed. Large orders require time.
FINAL SALE
Once you add item your item to your cart, please specify your monogram letters. Only up to 2 letters or numbers included in price. Please add each bag one by one unless all monogram colors will be the same.
Please note that this is a handmade product and all baskets are unique as weaves vary from basket to basket. All baskets are inspected for any flaws before monogramming and shipping.
The paint on the baskets WILL chip. This is inevitable as use of the bag pulls on the straw. I will gladly touch up baskets at no extra cost (shipping excluded). If you are unsure about how you feel about the chipping, please do not order as I want you to be 110% satisfied!