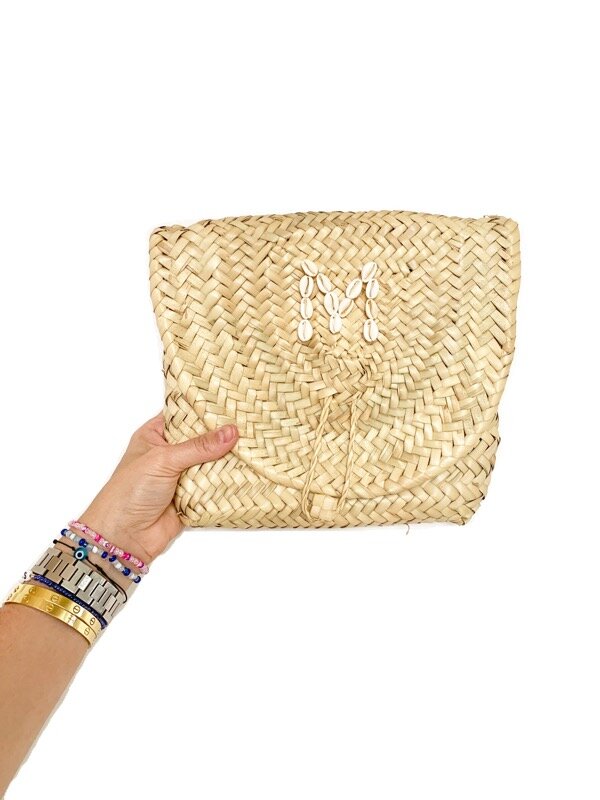 Shelled Marrakech Clutch
This clutch is made of palm straw like the baskets. It has a loop closure. ONE letter done in puka shell included. Multiple letters will be extra and on a case by case clutch basis. EACH clutch will look slightly different and vary slightly in size as this is a handmade item.
Straw Outer Shell | No Lining

Straw loop closure

Full Measurement approximately L 10in x H 8in x W 2in

Shell letter only done on 1 side of clutch

Letter is securely fastened but please be gentle

Letter will only be done in location shown
Must allow 3 weeks for this item to ship

ALL customized clutches are made to order.

FINAL sale

Only One shell letter included

Once you add item your item to your cart, please specify your letter choice (s).

Only 1 letter is included with listing as it will look best on this style

Please note that this is a handmade product and all clutches are unique as weaves vary. Each letter and front and back of clutch will look different. Slight curves are normal as this product is not 100% symmetrical. If this is will be an issue, DO NOT purchase.

Letters are firmly secured but they can come off with force. Please avoid that.

Please look over product photos and description carefully as this item cannot be returned and I want you to be completely satisfied!